I bet you make all sorts of lists…
…grocery lists
…wish lists
…books you'd like to read
…meals for the week
…bills to pay
…to do lists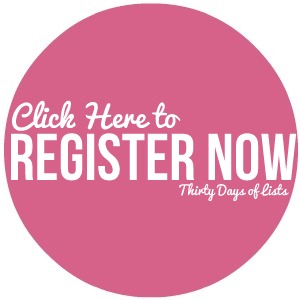 If you enjoy being creative but have only a little amount of time each day to do so,
30 Days of Lists
is for you! This challenge is hosted by
Kam of Campfire Chic
and
Amy of Lemon and Raspberry
…we both work full-time, blog what is probably full-time, and we love to make lists!
Register for 30 Days of Lists – September 2012
and join us for the fourth semi-annual challenge to make one list each day for the month of September! All you need is a few minutes…heck, you can even download a list of all of the lists we will be sharing throughout the month all at once to get a head start!
Being a Punk Projects reader, I know you're probably looking for a way to make this challenge as creative as possible! We've got you covered!
Here are some tutorials on how to make your own mini-album to house your lists:
Don't wait to register! If we hit 300 registered Listers by the end of September, we will give away Photoshop Elements 10 to one lucky Lister! That's right, just by registering for the challenge, you will be automatically entered to win Photoshop Elements 10 if we reach 300 registered Listers!

Have you participated in 30 Days of Lists?
What kinds of lists do you make on a regular basis?